Phone Mast Proposal Opposite Wrawby Park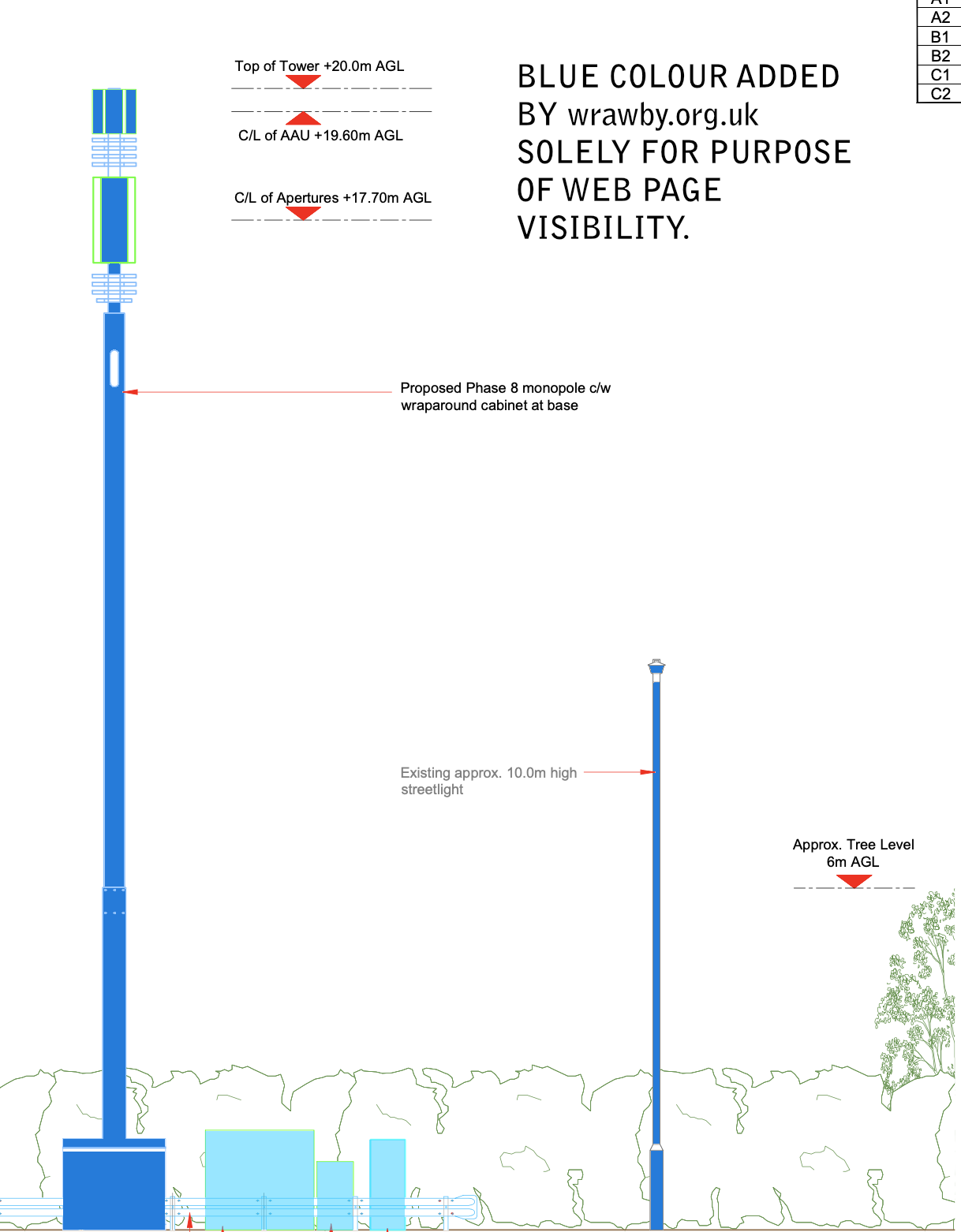 A "pre-planning consultation letter" from WHP Telecoms has been received by Wrawby Parish Council and North Lincs councillors concerning a proposal to erect a "20.0m Phase 8 monopole c/w wraparound cabinet at base and associated ancillary works" on a portion of a field on Melton Road belonging to Manor Farm.
Unlike other local communications masts, this one would be at a prominent village location adjacent to several homes and other places where people gather.
The site is directly across the road from Wrawby Park ("The Hills") and thus close to Wrawby St Mary's School and its Playing Fields, two bus shelters, and residences on Melton Road and Kettleby Lane. The height of the proposed mast is, as shown on this diagram supplied by the Applicant, twice the height of nearby lampposts.
The letter, from Mr Timothy Jiang, states that "CK Hutchison Networks (UK) Ltd ... will be responsible for construction of the site, and the Operator will be H3G better known as Three."
Here is a copy of the letter from Mr Jiang.
Here are the accompanying charts/maps/drawings showing the proposed location and height of the mast.
As you will see, the letter states "If you have any feedback on these proposals, we look forward to receiving your comments and if you are aware of any other local organisations that are not statutory consultees that you consider should be informed, please let us know and we will endeavour to consult with them." Perhaps it might be best in the first instance to contact Wrawby Parish Council (via the Parish Clerk at this address or all Councillors - Click here to send one e-mail to all councillors.) and subsequently our local North Lincs Councillors.
Further information
The letter refers to the "voluntary Ten Commitments Traffic Light Rating System" and states that the site has been rated as Amber under that scheme - in other words, roughly in the middle of the range indicating whether a proposal is acceptable or otherwise.
We have had to research those references as no information about them is supplied with the letter. Here is what the web editor found, and upon which he is willing to be corrected:
the Ten Commitments are indeed, as the letter accurately says, voluntary. In other words they have been drawn up by an industry body in association with some other organisations and are not law or a government document. Here is a link to the original publication - see Appendix A.
I am not aware if this has been updated since 2013.
the Traffic Light points system is to be found as Appendix C of the same document linked above and is similarly a voluntary assessment by the operator, which by its very nature may be rather subjective. Mr Jiang does not share at this point the detailed scores by which his company arrived at the Amber rating. If and when these are shared, they may provide an interesting basis for further discussion.
IMPORTANT DISCLAIMER
The above comments represent my personal researches and views and not those of St Mary's Church or the Parish Council. I encourage all interested Wrawby residents to do their own research on the above points rather than relying on the accuracy of my descriptions. Many people will have far greater expertise in this area than myself. If you feel I have been inaccurate in my wording, please do get in touch via the magazine editors e-mail address.
Jim Flewker